These classes are for you if:
You know you are opening up into the work you were put on this earth to do

You are longing to express who you are in the midst of your busy, demanding life

You want deeper, more intimate relationship

You have great ideas that are different to what you're doing now in your business and you need some help to bring it into being
What might be possible if you could align what you do, with who you are?
You are in transition…wanting to take the leap from where you have been into what is coming up next…
Wow! What is coming up next? What an exciting time.
What might come to you if you stop and explore this space instead of ignoring it?
There is so much opportunity and possibility in this place that seems like a void or an obstacle to moving forward.
Come together weekly in a small group of women committed to their own personal growth and making change in the world community. Through powerful practices and support, we work together to activate your feminine essence, understand and strengthen your own boundaries, explore your wonderful imperfections and recognise the power of being you.
This is a way for you to evoke more creativity, more clarity, more space and more joy when you are in a time of change and then step out of the void into your bigger picture.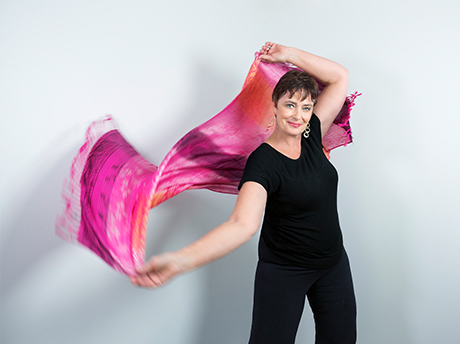 You'll be able to:
Develop a physical and energetic presence that attracts the attention you want… personally and professionally.
Feel more comfortable with your sensuality, and with receiving positive attention.
Experience more passion in your life – especially in your love life.
Be more at ease when setting clear boundaries with others.
Learn to follow your "higher guidance" rather than always pushing sh*t uphill to make things happen.
Look and feel more confident and radiant when you walk into any room.
There are sooooo many possibilities and opportunities when you recognise the value of being truly, deeply, vividly you.
Every woman has the right to feel this empowered.
Thank you for providing a safe for myself and other women to experience the powers of The Art of Feminine Presence.
I have rejoiced in my new birth of life. I am more passionate about life, about myself and others. My relationship will become richer and it gives a new meaning to my intimate relationship with my husband.
The workshop and the classes have supplied me with more vitality. It truly awakens the creative side of me and I have a real zest for life.
Being able to be present in my body is truly a powerful gift. This divine feminine sexual energy has the power to heal my body from the old sexual wounds in the post magical way.
Every woman has the right to feel this empowered.
I love your work, Louise.
Tracey Hay.
After just two sessions with Louise, I can't even believe the difference in my life.
For the first time ever, I feel truly at home in my body. The desire to escape my body and this planet has gone and I feel like I have found that calm place to escape my busy mind.
If I feel myself panicking about money or the future, then I just slip down into my centred core and I am present and can think again.
I can't imagine not having this gift, and I think the whole world needs to know about Louise and her work.
Tash Lewin of Brand Your Fate.
Louise Geary
Louise is an experienced facilitator, speaker and trainer. She runs classes workshops and works privately with women who are ready to step up in their business and personal lives and lead with their authentic selves.
Through powerful and effective practices and awareness around your personal blocks, Louise creates individual, "tailored for you" programs to help you recognise your self worth, build presence, confidence and genuine connections so that you can create nourishing personal relationships and draw clients and business to you instead of pushing to be seen and heard.
Louise is a wife and mother of two children, the first of whom was born injured. This has led her to walk the path of self discovery and empowerment – to help her son function in a world that imposes way too many stigmas on disability. She is committed to helping both her sons live life to their highest potential, while they utilise every opportunity and grow up in a loving household.
If you're ready to work with me and Activate Your Feminine®, find out more by filling in this form here and I will be in touch.
Contact Louise(me) as quick as you can, to have a conversation about what's happening for you right now and if Activate Your Potential is for you. I would love to meet you. If you are drawn to this work, I know we'll have a great conversation.
Mobile: 0423 968 112