Activate Your Potential.
Wake Up to Possibility and Access the Infinite Potential Deep Within You.
Book in now
Raise your emotional, physical, mental and energetic state so that it's possible to live in joy, feel excitement about your life and create opportunities.
When you do this, you can create:
The business or job you love to work in, that brings ease and spaciousness to your life.
An ideal client base in your business.
Meaningful and valuable content in your trainings, writing or coaching.
Finances that more than meet your needs plus safety, comfort and the capacity to share wealth.
The intimacy and love you desire in your relationships.
Relationships with your family and friends that nurture and hold you in love and that need your love and nurture too. What a gift!
Possibilities beyond your wildest dreams.
Your life force is who you are in this physical life. It's what gives you form and energy. It is your birthright to be alive and vibrant and full of life.
Do you feel this powerful life force surging through?

 
If you are in a low vibrational state these are things you might experience often:
Feeling fearful.

Negative thinking.

Constantly judging and criticising. And this is often directed at yourself.

 

Anger that keeps revisiting about others' words and actions, people or events.

 

A sadness that's always under the surface.

Feeling inadequate or thinking you are never good enough.

Comparing self to others.

Blaming others.

Being in a bullying or victim state.

Physical exhaustion.
If you crush yourself, flatten your pleasure and your life force in order to fit in, to be accepted, to be loved, you are in a lowered energy state and you are so busy trying to be what everyone else wants that you can lose who you truly are. And if you don't know who you are, how will anyone else know?

 
In short creating from a place of strength, joy, potential and power is so much easier.
You can create from a lowered state ie a state of confusion, criticism, judgement and unhappiness but it's a lot of work and no fun at all. The joy is squeezed out…of everything.
There are easier ways. "Activate Your Potential" weekly Tune Up is one of them. If you'd like to know more keep reading.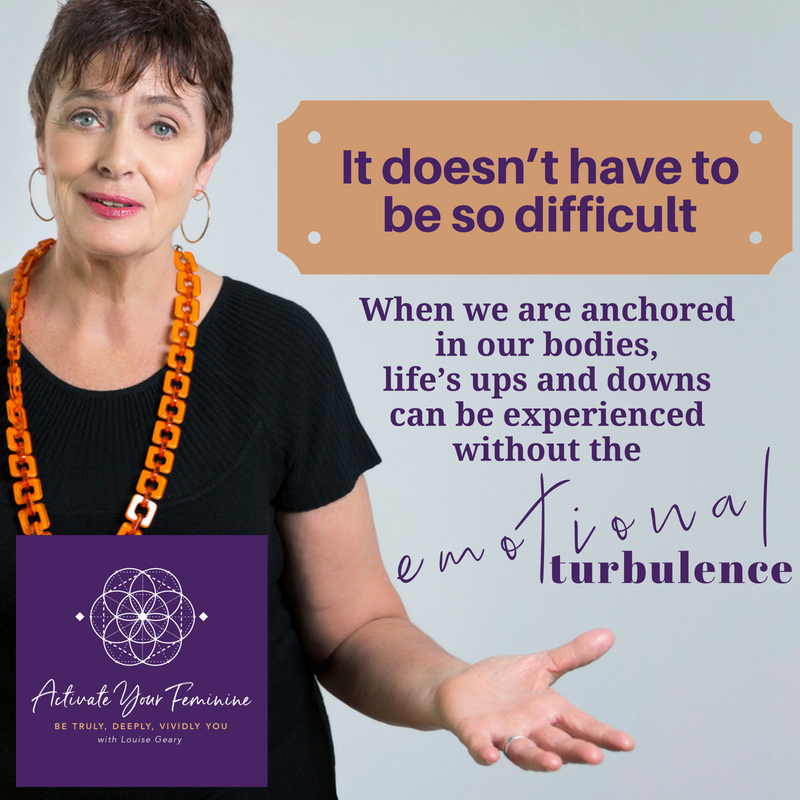 These weekly tune ups are created to help you:
Relax.
Strengthen your foundations ie build your strength and skills so you can be strong, flexible and resilient.
Lighten your energy and become the creator of your own life rather than being pushed and pulled by circumstances. 
Realise the potency and the infinite potential, deep within you. AND access and utilise this in your daily life.
Maintain your raised vibration so that you can continue to create what you desire in life.
What you'll receive, monthly.
Three, "Activate Your Potential" short recordings each month.
Sent to you on the 1st, 2nd and third Monday of each month.

 

This will be recorded and sent to each person who is registered for the month, so you can listen again and again at your leisure.
There will be an overall topic for the month and a question, thought, process, practice or meditation to help understand and implement this in your daily life.
The aim is always to bring yourself home to your body, here, in the present moment, to find strength and calm and power deep within yourself, to ground and expand your awareness and understanding and to raise your emotional, physical, mental and energetic state.
When you are in this state of raised vibration then potential, possibility and opportunities align.

 
One, 1 hour Q&A Zoom call per month on the fourth Monday of the month.
This will be held at 12 midday.
It will be recorded and sent to each person who is registered for the month. So if you can't be on the call live, you can email questions before hand and listen at a time that suits you.
This is a forum to ask questions.
There may be opportunity to share thoughts, experiences or difficulties that have arisen during the time you have been doing the "Activate Tune Ups"
There may be the opportunity for some individual coaching.

 

The power of group work is that when one person does some lightening of their energy and working on their difficulties, everyone in the group can benefit.
Unlimited Email with me, your facilitator where you can ask questions and I will personally reply within 48 hours, whenever possible.
Louise Geary
Hi I'm Louise Geary. I'm an experienced speaker, mentor and facilitator. I run classes, workshops and work privately with women, who are ready to step up in their business and personal lives and lead with their authentic selves.
Activate work is always women reconnecting to the feminine within themselves. How often do you get busy and stressed and lose sight of who you really are, what it is you truly want and how to deeply enjoy being alive. Until you stand fully in your body, here and now it can seem like an uphill battle to create meaningful relationships, work that you love, calm, spaciousness and joy in your life.
I do this work because I needed it so much myself. I spent many years not liking me, feeling unhappy with my life and just getting through the days. When I learnt the power and the grounding of being fully home in my body and how to activate my feminine core, I realised how important it is for all of us…to be in our bodies, to listen to ourselves and follow through on what our deeper knowing prompts us to do. It is this that allows us to be fully alive and to live every moment.
Being a mother of a non verbal child has been my most valuable training – how to listen and communicate deeply, intentionally and intuitively. These are skills that inform all of the work I do.
I love to facilitate groups because when a woman is supported and witnessed by other women in a safe space, she heals the pain of the "not good enough" culture, she learns to feel good about herself, to recognise her own value and to create healthy, loving community around herself. I see this as a powerful and practical way to create a healthy, vibrant world community…one step at a time
If you're ready to work with me and Activate Your Feminine®, find out more by filling in this form here and I will be in touch.
Contact Louise(me) as quick as you can, to have a conversation about what's happening for you right now and if Activate Your Potential is for you. I would love to meet you. If you are drawn to this work, I know we'll have a great conversation.
Mobile: 0423 968 112